OVERSEAS TRIPS

Puffin Express
We are involved in a number of special-interest tours abroad, especially in Poland.

Poland in Winter - next trip: 2019: 13 to 19 January

*The 2019 tour is now a guaranteed departure! Book now to get one or more of the last places.*
This is an adventure where we look for large mammals including European bison, wolf, elk. Bonfires by frozen lakes, cross-country skiing sometimes available; sometimes sledge rides in the forest.

The forest where we see the greatest variety of large mammals and have the best chance of seeing wolf was greatly favoured by Kaiser Wilhelm II and that other mighty Nimrod, Reichsmarshall Hermann Göring. Photo shows Sinclair Dunnett by the stone commemorating the Kaiser's 2,000th stag, shot on 28 September 1912 - '...einen kapitalen Hirsch von ungorade 14 Enden...'. It is one of a number of such stones from the early 1900s.
NATURETREK
Report - POLAND 2015
Saturday 31 January to Friday 6 February
Text by Sinclair Dunnett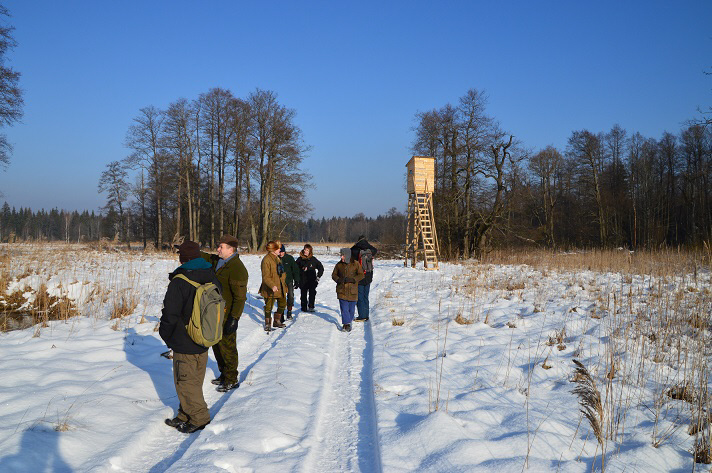 Morning recce of the "wolf meadow"; forest stalker Romek is second from left

Overview


Weather
We had snow cover, with fine snowscapes, in all three wildlife areas visited and moderate frosts. The vehicle did not have a thermometer, nor did most of the accommodations, but I would estimate temperatures rarely fell below -10 C (14 F).

Wildlife
The whole group saw > 50 Wisent [European Bison] plus > 20 Red Deer on Day 2 at Puszcza Borecka and had excellent views of Elk on Day 6 from the Czar's Road, also Red Fox.
All clients saw Roe Deer and Wild Boar in Puszcza Romincka, and heard Wolf howling. D- and K- had good views of this challenging species.
Please consult the checklist for detailed day-by-day sightings.
Little fresh snow fell during the trip; furthermore, there would appear to have been a minor thaw followed by re-freezing of the snow. Tracks and other signs were therefore rather poor, a minor disappointment in an otherwise fine trip.

Click here for full report, with photos, of the 2015 trip. (May take a couple of minutes to download; also MS Word does not do well with some foreign characters.)

Poland in Winter trips are usually guided by Sinclair Dunnett for NATURETREK.
To book, please send your mailing [street] address to Puffin Express or get in touch with NATURETREK direct - if the latter, please tell them you found the trip on the Puffin Express website - indicating the number of persons wishing to book.
---
Book by e-mail: Puffin Express or go to: Contact us